Children's Miracle Network Hospitals treat 17 million children each year for every disease and condition imaginable—from asthma and broken bones to cancer and heart defects. Each year, Children's Miracle Network Hospitals adopt life-saving equipment, perform breakthrough research and provide more than $2.5 billion in charitable care. CMNHospitals are committed to serving children above all else.
Today, at just one children's hospital:
200 children will visit the emergency department (Average pediatric ER visit = $423)
32 children will receive cancer treatments (Average cancer treatment = $75,000)
28 children will be treated for heart problems (Average heart valve repair in a child = $65,000)
4 children will be admitted after a serious injury or illness (Average children's hospital stay = $7,500)
Featured Hospital
Akron Children's Hospital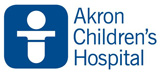 One Perkins SquareAkron, OH, 44308
From humble beginnings as a day nursery in 1890, Akron Children's Hospital has evolved into the largest pediatric healthcare system in northeast Ohio, operating 2 pediatric hospitals, 23 pediatrician offices, and about 80 locations across the region.
Our pediatric services draw more than 800,000 patient visits each year, and include children, teens and adults from across the country and around the world.
Akron Children's has also earned Best Children's Hospitals rankings by US News & World Report in 7 of the 10 specialties. These include cancer, diabetes and endocrinology, neonatology, neurology and neurosurgery, orthopedics, pulmonology and urology.
In addition to our primary, critical and specialized care, we offer more than 100 advocacy, education and outreach programs to promote the well-being of children. We are a major teaching affiliate of Northeast Ohio Medical University, helping train future generations of pediatricians and specialists, and our research institute is dedicated to advancing pediatric medicine and improving standards of patient care.
Find Your CMN Hospital
Below is a list of hospitals, grouped by states. Select the hospital that you want to get a map and description.